Fastboats in the Gilis
North of Lombok, there are three Gili Islands: Gili Trawangan, Gili Meno, and Gili Air. All three islands have something unique to offer visitors, and getting to Gili is simply a short boat ride away. To view all of the fast boat departure times and locations for the Gili Islands.
How to get to the Gili Islands from Bali.
And a number of Gili fast boat companies provide dependable speed boat services between these idyllic islands. Further down this page, you may discover the complete departure times, schedules, and route maps.
South of Bali
Popular locations on Bali include Kuta, Seminyak, Sanur, Jimbaran, Uluwatu, and Canggu in the south (Denpasar region). Serangan Harbour is the primary southern departure port for swift boat services to the Gili islands and Lombok. You might also think about using the Padang Bai departures as described below if you are staying in south Bali. Most flights from Bali to Lembongan and Nusa Penida depart from the nearby Sanur harbour.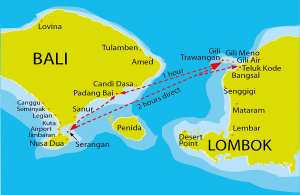 Vessel Transportation From|To Gili Islands to Serangan:
From | To Gili Islands To Padang Bay (Bali)
The busiest port of departure for services to Lombok and the Gili islands is Padang Bai harbour. The fast boat operators sailing from here will frequently offer complimentary pickup services for tourists arriving from South Bali too, making it the most popular alternative. This is not just best suited to travelers travelling from Ubud to Gili and eastern Bali towns of Candidasa and Padang Bai.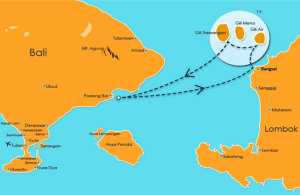 Booking with one of the more reputable operators is encouraged because of the extra care they take with well-organized, safe, and prompt boarding and departure procedures. The Jetty at Padang Bai can get very busy.
Vessel Options From Padang Bai to Gili & Lombok:
Gili to Amed
The small hamlet of Amed in northeastern Bali is suggested if you are staying in northern sections of Bali and are seeking for the easiest method to go to the Gili islands. Not just for visitors to the Amed and Tulamben regions, but also for farther west regions like Lovina.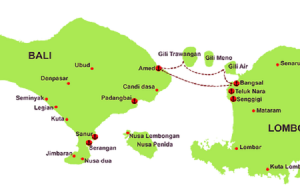 Freebird Express which departs from Amed's Jemeluk beach every day, is the top-rated quick boat from Amed to Gili.
Please be aware that Amed is not appropriate if you are traveling to or from Denpasar Airport or staying in south Bali. Depending on traffic, the trip from Bali's airport to Amed can take up to 4 hours and normally costs more than 700,000 IDR.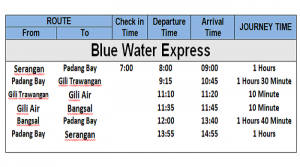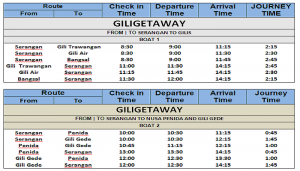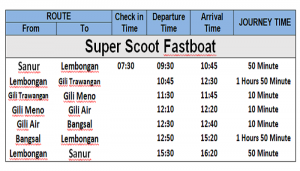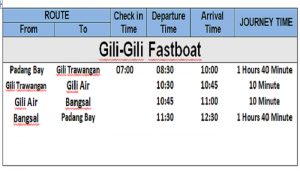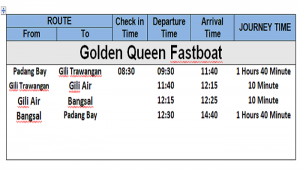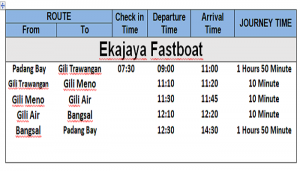 Gili Islands Gili Trawangan, Gili Meno and Gili Air
There is something for everyone on each island, whether you want to unwind on a beach, snorkel in pristine water, dive with turtles and manta rays, or simply sip a cocktail while watching the sun set over the Bali volcano. For additional information on which Gili island is ideal for you, see our travel advice for the Gili Islands.
Gili Trawangan The finest island for visitors searching for a ton to do, a lively nightlife, a dive shops, and  Awonderful restaurants is Gili Trawangan (abbreviated "Gili T"). Of the three islands, it is the most populated and developed, a more laid-back island.
Gili Air offers a perfect balance of activities, dining options, pubs, excellent diving, and peace and quiet.
The least developed island,
Gili Meno is the greatest choice for anyone looking to get away from other tourists and enjoy a quiet island without a busy main drag. The choice of honeymooners.
Fast Boat  to Gili
The top speed boat companies in the area are Blue Water Express, Gili Getaway, Freebird, Scoot Cruise, Golden Queen, Gili Gili and  Eka jaya Fast Boats, who are among our Fast Boat Partners. Their primary itineraries are from Bali to Gili Trawangan, and all of these routes make stops in Lombok and Gili Air the route from Bali to Gili Trawangan. You must first travel to Gili T or Gili Air before transferring locally to Meno in order to reach Gili Meno. Use if you want to find the most affordable tickets. Visit the Gilitrips website. From Amed in North Bali, the Freebird Express makes stops in Gili T, Gili Air, and Bangsal Harbour (Lombok). Only approximately 10 minutes separate the Bali to Lombok portion of the trip from the Bali to Gili Trawangan portion.Only around 10 minutes separate the Bali to Lombok leg of the trip from the Bali to Gili Trawangan leg. Our fast boat partners are the industry leaders in terms of expertise, safety, dependability, organization, and customer service. Simply enter the necessary search criteria in the box above to check for fast boat availability to Gili Trawangan and to reserve your fast boat tickets.
Fast Boat to Gili Islands
All year long, direct services from Bali to Lembongan and Bali to the Gili Islands are offered by Blue Water Express out of Serangan Harbour and Padang Bai. The closest departure location to Kuta and Seminyak is Serangan.
From Sanur, Scoot Cruises also runs numerous daily cruises from Bali to Lembongan. Additionally, they operate a daily service to the Gili Islands, stopping at both Gili Air and Gili Trawangan, from Lombok (Bangsal). Use the search box above to buy tickets for all of these routes.
Gili Getaway departs from Bali's Serangan harbor. With their carefully built boats and knowledgeable, well-trained staff, this is one of the quickest crossings from Serangan to Gili Trawangan. Getaway V, their newest vessel, is every bit as swift and comfortable as Getaway III.
New Route : Gili Getaway are now going from Bali to Gili Gede. Gili Gede is one of the lesser know islands located in the south west of Lombok. This route will reopen in Agust. Trips from the Serangan to Gili Gede.
As they leave from Amed on Bali's northeastern coast, Freebird Express provides the quickest sea trip conceivable. It is recommended that anyone staying in the Tulamben or Amed region utilize them to travel from Bali to Lombok and the Gili Islands.
In 2010, Gili Gili Fast Boat first began running. In the off-season, they travel every day to the Gilis from Padang Bai. They frequently run two boats each day, both from Padang Bai, during the peak season (in east Bali). In addition to dropping you off at Gili Air and taking you to Gili Trawangan, they also provide free hotel transfers from the majority of Bali's tourist hotspots, including central Ubud, Kuta, Seminyak, Sanur, etc.
Please Note:
You might need to travel from Bali to Gili with one fast boat company and return from Gili to Bali with another if you can't find a return ticket for the dates you need. When making last-minute reservations when there is limited capacity on many swift boats, or when you wish to go from one region of Bali but return to another, this is especially helpful. If there is no availability, the boats are full. In this case, we advise you to get in touch with us directly via Whats App, We can provide you with cheaper tickets without any added services.
For additional information Please Contact us.
Contact Us
If you have any questions, please contact us.