Padar Island is a popular tourist destination located near Labuan Bajo, a small fishing town in the western part of the Indonesian island of Flores. Labuan Bajo serves as the gateway to the famous Komodo National Park, which includes Padar Island, Komodo Island, and Rinca Island.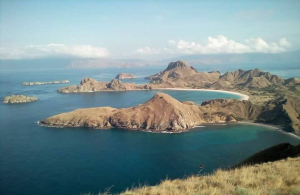 Padar Island is known for its stunning landscapes and breathtaking views. It features a unique topography with rugged hills, turquoise bays, and pristine beaches. The island is famous for its iconic viewpoint, from where visitors can enjoy panoramic vistas of the surrounding islands, bays, and the crystal-clear waters of the Flores Sea. The viewpoint is a moderate hike away and offers a rewarding experience for nature lovers and photography enthusiasts.
To reach Padar Island, visitors usually take a boat or join a tour from Labuan Bajo. The journey takes approximately two hours, and along the way, you can enjoy the picturesque scenery of the Komodo National Park. Many tour operators in Labuan Bajo offer day trips or overnight stays on Padar Island, allowing visitors to explore its natural beauty, relax on its beaches, and snorkel in its pristine waters.
It's worth noting that as an AI, I don't have real-time information on specific tours, accommodation options, or recent developments. It's always a good idea to check with local travel agencies, consult updated travel guides, or search online for the latest information before planning a trip to Padar Island or Labuan Bajo.
Contact Us
If you have any questions, please contact us.