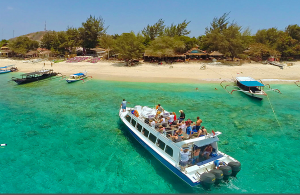 Gili Getaway Fastboat To Gili Gede
Gili Getaway are now going from Serangan Harbour Bali to Gili Gede, Gili Gede is one of the lesser know islands located in the south west of Lombok. This route will reopen in July on Mondays and wednesdays. Trips from the Serangan Stop on  penida next to Gili Gede.
They also supply chilled towels, refreshments on board, Sun Block cream, restaurant facilities on check in, clean air conditioned cars, friendly knowledgeable drivers and sun baking roof access so that you can enjoy the beautiful archipelago sun during your island getaway to the Gili gede.
Giligetaway Fastboat operates a boat transfer service from Serangan Bali to Gili gede and vice versa.  Hotel pickup service is available for the Bali departures for your convenience, All efficiently reached from Serangan Harbour in South West Bali just South of Sanur and only 20 minutes from Seminyak and Kuta. Book in advance so you don't have to worry about how you'll get to Gili Gede at the last minute.
Gili Getaway Fastboat will leave Serangan at 10:30 to Penida, and Gili Gede, respectively, at 10:30, 11:15, 12:15, and vice versa. will all depart on the return voyage at 12:30, 13:30, and 14:15, respectively, and Serangan Harbour will be reached at 14:15.
Depart Every Monday And Wednesday
Gili Getaway Fastboats offers hotel shuttle service to and from the following areas :
Sanur, Kuta, Legian, Jimbaran, Seminyak, Nusa Dua, Canggu central and Ubud area
What's Included:
Insurance and Medical Coverage
Air-conditioned vehicle
Bottled water
Restroom on board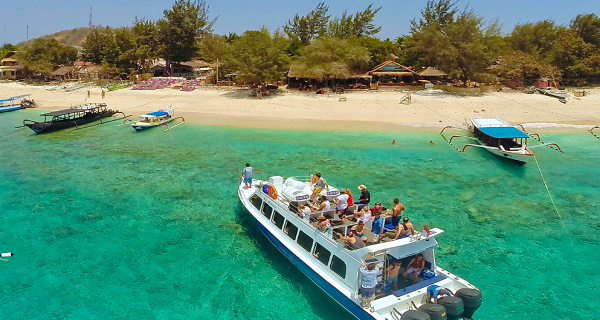 Facilities
Insurance and Medical Coverage Air-conditioned vehicle Bottled water Restroom on board Free Transfer From|To Sanur Denpasar, Kuta Legian Kerobokan Jimbaran Ubud.
30 oversized Sunbrella covered seats for total Comfort
Sun Deck For Up To 11 People with back rests and Storages 6 Peson, covered outside seating area
Gps Location System for route planning, Eta and Location Electric Flush full sized Toilet and Granite Counter top
custom built and designed to comply with internatinal standard safety compliance exceeds indonesia standard
marine grade fiberglass construction trained, friendly profesional crew
Price
Fastboat Bali to GiliIslands Trawangan|Meno|Air|Gede|NusaPenida|Lembogan|Sanur Versa Options
Fastboat | Private Car
Contact Us
If you have any questions, please contact us.