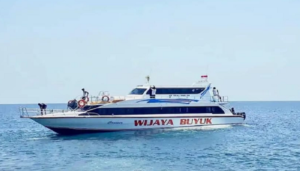 The wijaya buyuk Bali provides services to cross to the island From Sanur to Nusa Lembongan, Nusa Penida and Gili islands, fastboat makes daily transfer trips from Sanur and With a large number of seats, The boat engines are motorized by 200 x 3 and 250 x 4 Horse Power rated under international maritime. Code of Safety, 13-meter length, 3-meter width. Boat capacity for 40/45/75/85/95 persons which is completed with life jackets, compass, GPS, and radio calling.
For those who desire to travel to the island of Lombok, the penultimate stop is at Bangsal port after stops at Gili Trawangan and Gili Air. For guests who made reservations for a different location, the swift boat will stop three times. Each stop will take between five and ten minutes.
Destination:
From Sanur To Nusa Lembongan
Lembongan To Nusa Penida
Nusa Penida To Gili Trawangan Gili Air
Gili Trawangan To Gili Air
Gili Air And Lombok
Lombok To Nusa Penida
Nusa Penida To Sanur
Schedule And Rates
Available Rates, Dates, and Times are displayed during the booking
Fastboat Bali to GiliIslands Trawangan|Meno|Air|Gede|NusaPenida|Lembogan|Sanur Versa Options
Fastboat | Private Car
Contact Us
If you have any questions, please contact us.