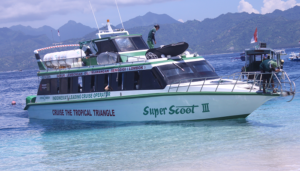 Scoot Fast Cruises commenced operating on Bali in 2004, providing a service from Sanur to Nusa Lembongan. As the first fast passenger boat in Bali, the founder's original idea was to provide a fast commuter boat service direct to the island, targeting people who found boat charter too expensive or the local boat just too slow. With over 40 years' experience in tourism and passenger ferries in Australia, the principal had a sound background and could see the potential for such a service.
Initially, Scoot I operated twice a day to Nusa Lembongan and provided a basic transfer service. It soon became clear from increased demand that more departures were required, and with this goal in mind, Scoot II entered service in 2006. Scoot II quickly increased passenger capacity and reduced traveling time to just 30 minutes from Sanur Beach to Nusa Lembongan. As of January 2009, Scoot Fast Cruises remains the only company to operate from Sanur to Lombok and the Gili Islands.
Scoot Fast Cruises is an industry leader here in Bali. Our team continues to strive for excellence, and we expect to expand again in the coming year. With our devotion to the tourism industry on Bali and the surrounding islands, we are your first choice for safe and comfortable travel.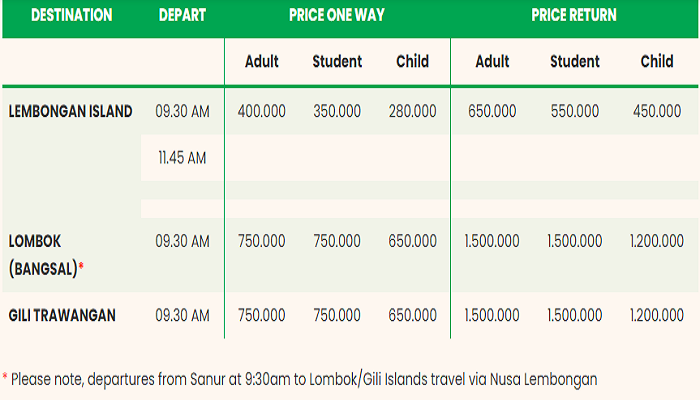 Price includes
Free hotel pick up & drop off service when departing from Sanur:
South Bali: Sanur, Kuta, Kerobokan, Seminyak, Nusa Dua (BTDC) & Jimbaran
Ubud: Central Ubud, Monkey Forest Road & Kedewatan Road areas.Canggu & Uluwatu: additional charge IDR 250.000/car for max 4 passengers.
Free hotel pick up & drop off service when departing from Lembongan:
Lembongan Island: All areas
Hotel pick up & drop off service when departing from Lombok at Bangsal Harbor.
Hotel transport Senggigi area : additional charge IDR 250.000/car for max 4 passengers.
Free mineral water
Luggage Porter for both pick up and drop off service
Please note
As directed by the Lombok Harbor Master in January 2017, all boats must now pass through the port of Bangsal on Lombok for clearance
All boats from Sanur to Lombok/Gili Islands will stop briefly to drop off & pick up passengers on Lembongan
All prices are in Indonesian Rupiah (IDR)
Children are aged between 3 – 12 years old
Infants 3 years and under travel free (please read our Terms & Conditions when travelling with infants)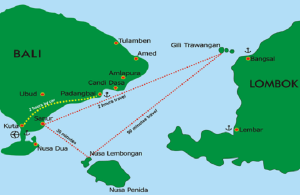 Available rates, dates, and times are displayed during the booking
Facilities
Insurance and Medical Coverage. Air-conditioned vehicle
EPIRB: Electronic Position Indicating Radio Beacon. When immersed in water the EPIRB automatically sends an SOS signal via satellite to the authorities, informing name of vessel and precise location. Continues to send signal for up to three days GPS system, SOLAS standard life jackets for all passengers and crew, Full set of distress flares in accordance with regulations Marine VHF ship-to-shore radio,4 throw rings,
Restroom on board, Shutle Service with Air-conditioned
fully accredited captain, engineers, and friendly English speaking crew Run wear received complexion.
Price
Rp 750.000


Adult

Rp 650.000


Kids

Rp 0


Infant Under 3 Years (FOC)
Fastboat Bali to GiliIslands Trawangan|Meno|Air|Gede|NusaPenida|Lembogan|Sanur Versa Options
Fastboat | Private Car
Contact Us
If you have any questions, please contact us.