Mount Rinjani is an active vocano located on the island of Lombok in Indonesia. It is the second highest volcano in the country, standingmountain at an impressive height of 3,726 meters (12,224 feet) above sea level. Mount Rinjani and its surrounding areas form the Rinjani National Park, which is known for its breathtaking scenery and challenging trekking opportunities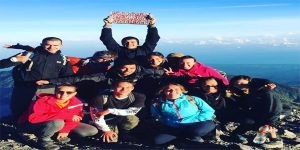 Trekking to the summit of Mount Rinjani is a popular adventure activity for outdoor enthusiasts. The journey typically takes 2-4 days, depending on the chosen route and your fitness level. The most common starting point is Senaru village, located on the northern side of the mountain. The trek involves steep ascents, rocky terrain, and challenging trails, but the rewarding views and sense of accomplishment make it all worthwhile.
Here are some key points to know about trekking Mount Rinjani:
Trekking Routes: There are two main trekking routes to the summit of Mount Rinjani: the Senaru Route and the Sembalun Route. The Senaru Route is more popular and offers diverse landscapes, including lush forests, open grasslands, and stunning viewpoints. The Sembalun Route is considered more challenging, with steeper slopes and a longer distance to the summit.
Camping: Trekking to the summit of Mount Rinjani usually involves overnight camping. Campsites are available at designated areas along the trekking routes, and you can rent camping equipment or hire a trekking company that provides tents, sleeping bags, and meals.
Summit Sunrise: Many trekkers aim to reach the summit of Mount Rinjani before sunrise to witness the breathtaking sunrise over the surrounding landscapes. The view from the summit is truly spectacular, offering panoramic vistas of Lombok, the Gili Islands, and even Mount Agung in Bali on clear days.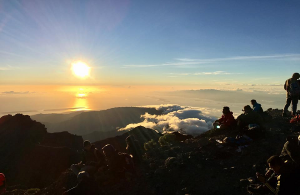 Segara Anak Lake: One of the highlights of the Mount Rinjani trek is visiting Segara Anak Lake, a beautiful crater lake located at the base of the volcano. The lake is renowned for its striking blue color and hot springs, providing trekkers with an opportunity to relax and rejuvenate after a challenging climb.
Trekking Season: The best time to trek Mount Rinjani is during the dry season, which typically runs from April to November. The weather is generally more stable and clear during this period, offering better visibility and safer trekking conditions. However, it's always advisable to check the weather forecast and seek local advice before embarking on the trek.
Local Guides and Porters: It is highly recommended to hire a local guide and porters for your Mount Rinjani trek. They have invaluable knowledge of the terrain, can provide assistance, and help ensure your safety throughout the journey. Additionally, hiring local guides and porters supports the local economy and communities.
Trekking Mount Rinjani is a challenging but rewarding experience that allows you to immerse yourself in the stunning natural landscapes of Indonesia. It's essential to be adequately prepared, physically fit, and have the necessary equipment and supplies for a safe and enjoyable trek.
Contact Us
If you have any questions, please contact us.