Checkout
Tour Detail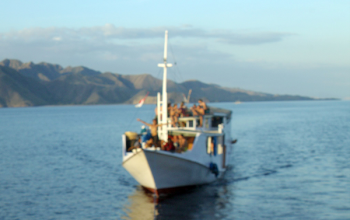 Experience Komodo's Marine Magic Like Never Before! From East Lombok|Sumbawa|Komodo|Labuan Bajo
Lombok To Labuan Bajo
4 Day 3 Night

Date of Trip
Guest
Person
Price
Rp /

Pax
Total Rp
Dive into the extraordinary beauty of Komodo, Indonesia. Are you ready for the adventure of a lifetime? If you're aged 20-50 and have a heart for snorkeling, water sports, island hopping, scuba diving, and all things marine life, you're in for a treat!
At Komodo Adventures, we've crafted the perfect experience for nature lovers and travel enthusiasts like you. Our island-hopping tours will take you to hidden gems that only the lucky few get to explore. The crystal-clear waters are your playground, and the marine life is your welcoming committee.
🐢 Snorkel with majestic sea turtles, discover vibrant coral gardens, and capture the essence of eco-tourism in this untouched paradise. For adventure seekers and photography enthusiasts, Komodo offers a canvas of endless opportunities.
Don't miss out on the chance to be part of our travel blogging community, sharing your unforgettable Komodo moments with the world.
Ready to make waves in Komodo? Join us today and start your journey to marine magic!
"Book Your Adventure Now!"
Departure:
Day 1 : Lombok Kayangan|Kenawa Island|Sleep next to Bola Islands
We all gather between 10:00 Am On Lombok. we will drive  by Bus to the harbour of East Lombok estimate time 2 hours.
Activities for this day will be snorkelling, swimming and enjoying the sunset.
Optional: you can hike the mountain on Kenawa island for a breathtaking view.
Day 2 : Whale Shark Point (Saleh Bay Sumbawa) | Tambora Beach
on the hunt for the whale sharks during snorkling.
Activities Snorkeling, swimming, Sailing and enjoying the sunset from the boat
Day 3 : Laba Island | komodo Park|Pink Beach|Padar Island.
Laba Island Soft Treking To See Sunrise At the Hill Of Laba Island
Visiting the legendary Komodo dragon Park to Hunting Komodo by Camera
Sailing to  pink beach, for relaxing, snorkeling.
We arrived at Padar islands we will hike to watch the marvellous Views.
Sailing towards island.
Day 4 : Rinca Island|Menjerite|Labuhan Bajo
Visiting the legendary Komodo dragon Park at Rinca island to Hunting Komodo by Camera
Manjarete Snorkeling To see Turtle
hopping for snokelling, sunbathing, beach games, and overall relaxing.
We will finish the tour around 14:30 Pm in labuhan Bajo, depending on the weather conditions.
Details of Pickup:
Pick up Service from Mataram city, Senggigi and Bangsal Harbour. and if you stay in gili island, you can confirm to us about pick up service from bangsal harbour, we can wait your first boat at the morning.
Room
Cabin for 2 person And Deck Room. Enjoy your live a board moment with us.
Inclusions :
Pick up Service from Mataram city, Senggigi and Bangsal Harbour. and if you stay in gili island, you can confirm to us about pick up service from bangsal harbour, we can wait your first boat at the morning.
Shuttle bus transfer to the boat
3 Times Fresh meals a day (vegetarian options are available) with Indonesian food.
Unlimited coffee, tea and mineral water (help the environment and use a refill bottle).
Safety Equipment (Liferaft, Life Jacket, and ect)
Fresh Water & simple shower
Snorkeling gear (masker).
Enterance tiket Komodo park.
Exclusions :
Personal Needs
Flights Ticket
Dive gear
Personal Expenses
Soft Drink and beers.
Boat Condition:
Length : 20M – 25M
Wide : 4M – 4,5M
Engine : Yan Mar 20Hp – 30Hp
Sail : Only to help the engine
Crews : 5 – 6 Crews
Boat capacity : 25 – 45 Person
Things have to carry :
Swim cloth , Towel , sun block .
Extra energy drinks , soft drinks and snack
Camera
Added Information:
Confirmation will be received at time of booking
Not wheelchair accessible
Not recommended for travelers with back problems
Not recommended for pregnant travelers
No heart problems or other serious medical conditions
This is a group tour activity.
Group will participate.
There must be a minimum of One 1 participants for this activity.
Policy on Cancellations:
For a complete refund, you may cancel up to 24 hours before the experience.
You must cancel at least 24 hours prior to the experience's start time to
receive a complete refund.
You won't get your money back if you cancel less than 24 hours before the experience begins.
Less than 24 hours before to the experience's start time, any changes cannot be made.
Cutoffs are determined by the experience's local time.
Good weather is necessary for this encounter.
You will be given the option of an alternate date or a full refund
if it is postponed because of bad weather.
Dive into a world of breathtaking beauty, where every wave tells a story and every sunset paints a masterpiece. Imagine the wind in your hair, the salt on your lips, and the thrill of adventure pulsing through your veins. It's time to embark on a journey unlike any other!
At Komodo Adventure Sailing, we don't just offer boat rides; we offer an experience that will leave your heart racing and your soul rejuvenated. Whether you're an avid water sports enthusiast, a nature lover, or simply someone who craves the extraordinary, our story begins where the ordinary ends.
Picture yourself snorkeling in the crystal-clear waters, surrounded by vibrant coral reefs and exotic marine life. It's a world of wonder beneath the surface, and you're about to become a part of it.
And then, there are the legendary Komodo Dragons, the ancient guardians of these lands. Witnessing these majestic creatures up close is like stepping into a real-life fairytale. It's a moment that will stay with you forever.
But it's not just about the destination; it's about the journey. Our sailing boats are your ticket to unforgettable moments, shared with like-minded adventurers from around the globe. It's a chance to create bonds and memories that will last a lifetime.
Join us on this epic adventure!
Maybe you are interested...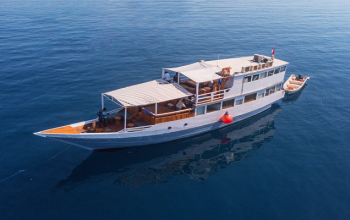 Labuan Bajo
2 Days 1 Night
*Start Rp 39.000.000 / Pax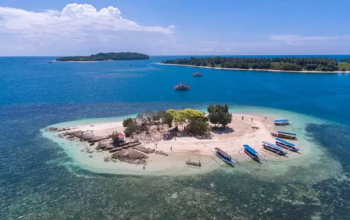 Gili Gede
1 Day Trips
Rp 2.255.000 / Pax
Lombok To Labuan Bajo
4 Day 3 Night
*Start Rp 3.500.000 / Pax
Contact Us
If you have any questions, please contact us.